About Us
Anderson Roofing Company, Inc. is a full-service roofing contractor licensed in Oregon and Washington. We have been roofing commercial, industrial, government and medical facilities since 1952 and maintain locations in Portland and Salem to cost-effectively serve our clients. As one of the larger roofing contractors in Oregon and SW Washington, Anderson Roofing has the bonding capacity to maintain a full schedule of large projects while maintaining a high standard of personalized service.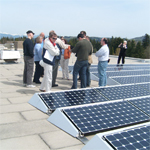 Anderson Roofing has experience in all traditional roofing systems, up to and including today's advanced Eco, Garden and Solar installations. We consider ourselves full-service in that we help manage the most complex projects as well as respond quickly to smaller projects and emergency repairs.
Our supervisors average over 15 years of service with our company. They pride themselves in having a wealth of knowledge and expertise in all aspects of roofing application and project management. We value our employees and therefore have a strong focus on safety.  Anderson Roofing maintains one of the leading safety profiles in the industry.
Anderson Roofing Company and our suppliers stand by every roof we install and are committed to using only high quality products that minimize costly call-backs, and down time.
We are manufacturer-certified applicators with; Firestone, Tremco, Siplast, Johns Mannville, Malarkey, T. Clear, and others. As certified contractors, we're authorized to provide specifications and warranties suited to our clients' needs.